Antimicrobial Coating
We have developed a range of high quality antimicrobial coatings for professional use. The products have the following features in common:
easy-to-clean and
easy-to-disinfect / antimicrobial
What does that mean?
Products, which claim to be easy-to-clean are widely available on the market. They are commonly used in hygienic challenging environments, such as food-industry, hospitals, pharma production, med-tech etc. The surface density and structure hinders dirt to attach to the surface and therefore the removal is much easier, resulting in lower cost for the customer.
Easy-do-disinfect however is a feature, which Novapura has developed: Sufaces, which have to be disinfected on a regular basis are the target area for such coatings. If such areas are coated with our coatings it will
boost to effect of the commonly used disinfectant
prolong the the effect of the disinfectant
The benefit of the customer is an economic one and one, wich affects EHS (environment health and safety). Economic: less disinfectant will be used. EHS: since the surface is disinfectant during a longer time period  the disinfection gap may be closed or at least brought to a minimum. The result is a reduction in cross contamination incidents.
Novapura has combined the two features, resulting in a coating with unparalleled performance.
Our antimicrobial coating: tests against SARS Covid and other micro-organism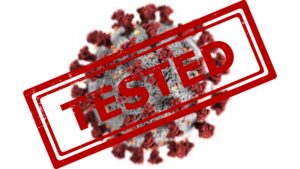 We are one of the few companies, who has developed a coating, which has been successfully tested against the SARS Covid virus.We have tested our coatings against a wide range or other organism. Coat-it AM has been the product, which underwent the most severe test program:
10 strains of bacteria
antimicrobial long term effect (exposing the coating to polar and non-polar fluids for more than 200 hours)
mold (see the following time elapsed video)
The latest test has been the effect against SARS Covid (Wuhan strain). The test was a full success!
Test in a Swiss Hospital – you can see the results in the following blog post. Different high touch areas have been coated-. The contamination of the coated areas has been compared with non-coated areas.
Application
Apart from the widely performed brush, air brush, spraying and coli coating, our coat-it AM can also be applied in an easy-to-use cartridge. Contact us for more information.
In the following blog post, you can see some pictures of a kitchen in a 5 star hotel, which was coated with coat-it AM.
Below you will find a list of products, for different areas of applications. 
Name
Use
Features
Application
Technical Data Sheet
Technical parts

Metal sheets for indoor applications (coil coating)

Antibacterial coating based on fluoropolymer technology (Teflon).

All colours available, also transparent
Especially developed for coil coating applications.

Other types of applications, such as rolling or spraying is also possible
Infrastructure in hygienically challenging environments

Walls, handles, floors, sealing of tiles
high solid, easy-to-clean and easy-to-disinfect

transparent, colours available on request
All available types of applications, including the easy-to-use cartridge
Walls and floors in hygienically challenging environment
Water based 2C coating, based on epoxy technology

All colours available
All available types of applications